Yesterday Natalie visited Conan to promote Mockingjay and Game of Thrones. Enjoy some caps and two videos from the interview.
Gallery links:
–
Public Appereances > 2014 > Nov 17 | Conan
You can find links to the videos directly on Conan's site.
– Natalie Dormer On "Game Of Thrones" Season 5
– Natalie Dormer On Training For "The Hunger Games: Mockingjay"
First official images of Natalie in Mockingjay were released. Enjoy them in the gallery!
Gallery links:
– Movie Productions >
The Hunger Games: Mockingjay Part One (2014) > Promotional Stills
–
Movie Productions > The Hunger Games: Mockingjay Part One (2014) > Behind the Scenes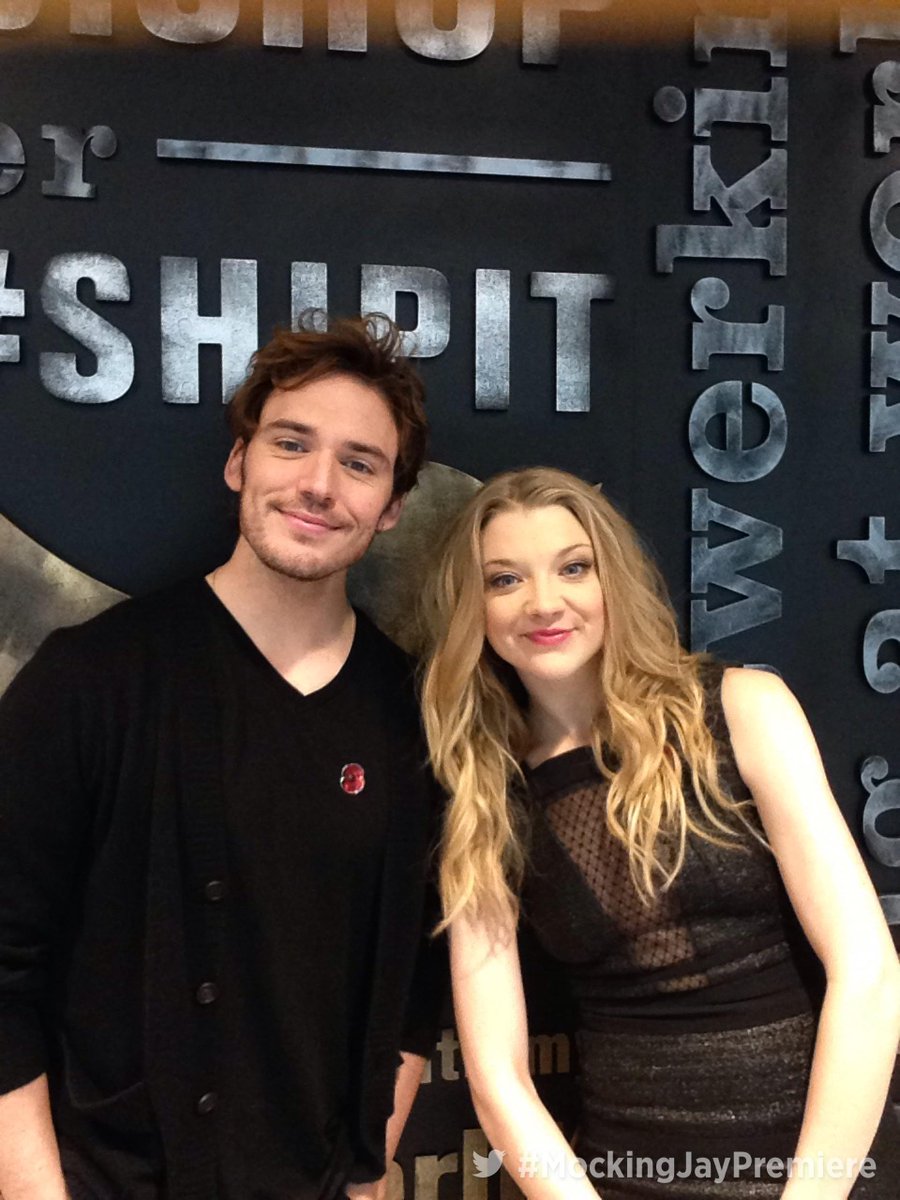 A full recap of the Q&A is on
storify.com
Deadline.com has confirmed that Natalie has been cast in the movie Posh.
Natalie Dormer has joined the ensemble cast of Posh for director Lone Scherfig. The film follows two first-year students determined to join the infamous Riot Club, where reputations can be made or destroyed in one night. The Game Of Thrones actress, who next appears in the features Rush and The Counselor, is repped by UTA, Untitled Entertainment and United Artists.
Game Of Thrones star Natalie Dormer is keen for a bit more air time in the show's fourth series after she was omitted from the controversial Red Wedding episode and the season three finale.

The 31-year-old actress, who plays  Margaery Tyrell in the gritty HBO drama, is hoping her character will get the opportunity to react to the unexpected bloodshed next time around.

Quizzed on how she felt Margaery would have responded to the Red Wedding, Natalie told Entertainment Weekly: 'I hope that you'll see it in the future, in season 4. Something like the Red Wedding just goes to illustrate the darkness of Tywin Lannister. It's one thing being a politically savvy family like the Tyrells, but it's quite another to be so amoral, immoral, in your pursuit of power and control.

'I think the Lannisters are the only family that would have orchestrated [something like] that. So yeah, I would imagine the reaction from the Tyrells — what happened to the Starks is going to terrorise them somewhat. I mean, these are the in-laws!'

She goes on to explain that she has made a conscious decision not to read the books and is yet to await her fate.

She continued: 'I haven't read the books on purpose. I've chosen not to. I know the broad strokes, the trajectory of what happens. Dan [Weiss] and David [Benioff] are very good at surprising us all.

'Even when you know what is going to happen to your character, you have no idea of how or when it's going to happen. So there is still a great level of unpredictability,' she added.
Between now and June 28, the deadline for Emmy voters to submit nomination ballots, EW.com will feature interviews with some of the actors and actresses whose names we hope to hear when nominations are announced on July 18.

How does a bright-eyed, sweet-natured, deceptively ambitious teenage girl navigate the treacherous waters of King's Landing society — not to mention the cruel nature of her sadistic husband-to-be and his scheming mother — without losing her head? Simple: By hiding her true motives behind a megawatt smile, wielding innocence and enthusiasm as skillfully as a swordsman brandishes his blade.

It also helps if that teenager is played by 31-year-old Natalie Dormer, a seasoned performer who specializes in masters of manipulation like The Tudors' Anne Boleyn (another noble with royal ambitions) and Elementary's Irene Adler/Moriarty.

In Dormer's hands, these characters are never just seductive scam artists. Margaery Tyrell of Game of Thrones, for example, is certainly cunning — but in the actress' mind, she's also genuinely caring, thoughtful, and liberal-minded. "She has quite a modern take on power and how it operates, which is fascinating to play," Dorner told EW in between screenings at the Edinburgh Film Festival. We're guessing she was being sincere — though with an actress like this, it's always just a little tough to tell for sure.

ENTERTAINMENT WEEKLY: You first appeared on Game of Thrones in season 2, but your character didn't really break out until season 3. Was there a particular moment this year when you started to feel like you had become a more integral part of the ensemble?
NATALIE DORMER: Yeah, absolutely. I thought I'd talk to you about the crossbow scene in episode 2, with me and Jack [Gleeson] talking in Joffrey's bedchamber.
[Warning: This story contains major spoilers from Thursday's episode of Elementary. Read at your own risk!]

Irene Adler is alive!

That's the bomb Elementary dropped on both Sherlock Holmes (Jonny Lee Miller) and the audience Thursday after a mysterious man claiming to be Moriarty led Holmes straight to his one and only love. Sherlock had long believed Irene (Natalie Dormer) to be dead after discovering a healthy amount of her blood in London. But she is, in fact, alive, having been held captive for the last 18 months. This, of course, raises the question: Why now? With Sherlock hot on Moriarty's trail, how will Irene fit into all of this? TVGuide.com turned to Dormer to get the scoop on Irene's return. Plus: Check out an exclusive sneak peek of the extended season finale promo below!

Tell us about this version of Irene Adler and how you play her.
Natalie Dormer: When I went into the meeting with [executive producer] Rob Doherty to talk about playing her, we talked about how you have to choose an angle at how to play Irene depending on who your Sherlock is. The wonderful thing about the way Rob writes Elementary is that Sherlock has this issue of his addiction and this darkness and this vulnerability that he has due to being an addict. You could argue it's a nice nod to the Arthur Conan Doyle novels in a way that other incarnations of modern-day Sherlocks don't actually pick up on. So for me and Rob to have a conversation on how to tackle Irene, you're very much aware that Irene Adler has to be the woman, the only woman who has ever gotten under the skin or close to — to terrorize or to invigorate — Sherlock. She's intelligent, fiery, and Rob said she's got a bit of the devil in her. She's a nice yin to Sherlock's yang. She's stimulates him mentally as well as other areas, as we all know that's what Sherlock responds to: being challenged and stimulated mentally. She's a good foil. She makes him feel alive and feel human.

In present day, she's been held captive for a long time, so what is the initial interaction like between Sherlock and Irene?
Dormer: They've both been traumatized. She essentially has been incarcerated for 18 months and he's been incarcerated within himself and dealing with his addiction, so they've both gone through a heavily traumatic experience. It's that thing when you've been incredibly close to someone — the closest you can be to someone on a mental and emotional level — and then you go through trauma that changes you, then how do two people who have been so close react to each other when they meet as if they're strangers? They've both come out of the other side that has altered them and their sense of self and identity and everything they thought and knew and believed about themselves. It's really interesting to play. It's a gift of a role and a story line for that reason because the chemistry is obviously still there. There was a bond between them which can never be denied and yet they're strangers at the moment because of what they've been through. It's very human in that it's a heightened version of what it is to lose someone or the love of your life and find them again and the trauma in that.
As we say in the new issue of Entertainment Weekly hitting stands Friday, behind every man with a thirst for sex and power is an equally clever, manipulative woman… who could be played brilliantly by Natalie Dormer.

The 31-year-old Brit, who broke out Stateside in 2007 as the seductive Anne Boleyn to Jonathan Rhys Meyers' King Henry VIII in The Tudors and now embodies King Joffrey's shrewd betrothed Margaery Tyrell on HBO's Game of Thrones, begins a three-episode stint tonight as Sherlock Holmes' iconic love Irene Adler on CBS' Elementary (through May 16′s two-hour season finale). "It's a real privilege to be asked to play that one woman who has gotten under Sherlock's skin," Dormer says, noting that Elementary creator Robert Doherty was a fan of her work on the 2011 cult supernatural British TV show The Fades.

Unsure if her schedule would align with the show's, Doherty and fellow exec producer Carl Beverly wouldn't tell her much about the arc when they first met. "We had this kind of really amusing conversation where they were like, 'We love you!' And I was like, 'I love you!'" she recalls. Though she got all the details when she officially signed on, she's still going to be "reasonably coy" with us…

What we do know is that in this incarnation, Irene is presumed dead at the hands of Moriarty — the reason Sherlock (Jonny Lee Miller) started his downward spiral and moved to New York. We meet her in flashback and find out she worked in art restoration and met Holmes when she was asked to consult on a case. "Occasionally, two personalities bump into each other and this mad chemical reaction happens — and not just sexual. Obviously because of the nature of Sherlock Holmes, it's cerebral as well. He has to engage with somebody on an intellectual level to really be inspired or intoxicated by them. And the feeling is mutual," Dormer says. "Irene brings out an entirely different side of his personality that no one else has yet been privy to. So it's interesting to see Sherlock go through that turmoil."
Watch out, Joffrey!

Game of Thrones star Natalie Dormer is set to take on the iconic role of Irene Adler Elementary, CBS confirms to E! News. Dormer, who plays current queen-to-be Margaery Tyrell on HBO's fantasy hit, will make her debut as Sherlock Holmes' (Jonny Lee Miller) former love in the May 9 episode and will also appear in the two-hour season finale on May 19.

"We're moving to the next chapter in our show—and in some ways, to a previous chapter in Holmes' story," executive producer Rob Doherty said in a statement. "Irene Adler is perhaps the most pivotal relationship in Sherlock's life, and I can't think of an actress better suited to the challenge than Natalie."

In CBS' take on the classic story, Sherlock learned that his former employer Moriarty (whom viewers have yet to meet) was behind Irene's mysterious death, which led the brilliant consultant detective to develop a drug addiction.

Of course, Dormer isn't the first actress to play what is arguably the Sherlock Holmes franchise's most important female character: Rachel McAdams took on the role in Robert Downey Jr..-led film franchise and BBC's super-popular Sherlock cast Lara Pulver as Adler opposite Benedict Cumberbatch's Sherlock.

TVGuide.com first reported the news of Dormer's casting.

Elementary airs Thursday at 10 p.m. on CBS.
Actress Natalie Dormer plays the role of Margaery Tyrell on the HBO series "Game of Thrones."

Given the short life expectancy of characters on "Game of Thrones," actress Natalie Dormer made sure she took advantage of the first chance she got to sit on the show's infamous Iron Throne.

"It was a photo opportunity and I took it," the British stunner who plays Lady Margaery Tyrell on the hit HBO fantasy says, quick to show a Daily News reporter the photographic evidence of her brief reign — at a San Francisco screening — on her iPhone.

"These are moments in your life to be cherished, they don't come around that often," says Dormer. "To be flying around in a 'Game of Thrones' jet, to be greeted by massive enthusiasts. So you cherish those experiences because you might end up in a theater being paid two pence a week, doing something you really love just for the passion, that no one comes to see in six months' time."

That's probably not going to be a real concern for the 31-year-old actress anytime soon, as the third season of "Game of Thrones" debuts tonight at 9 p.m.

Dormer, who rose to fame on this side of the pond on Showtime's "The Tudors," normally would have stayed away from "another long-skirts-and-horses gig," as she calls period dramas. The opportunity to saddle up on "Game of Thrones," though, was too great to turn down. (Even if she auditioned for a completely different role that she declines to reveal.)

And even if that meant occasionally baring more than her soul as Margaery, who this season is a major player in the court of King's Landing as the intended bride of King Joffrey (Jack Gleeson).

"They put us all up in the same hotel whether we're (filming) in Croatia or Belfast, so pretty much the person who has a sex scene at the end of the week is the person who's in the gym or not coming out for dinner," she says, laughing.

During the six months a year she's not filming "Game of Thrones," Dormer has been exercising other acting muscles. She just wrapped work opposite Brad Pitt on the upcoming film, "The Counselor." It wasn't that long ago that she was an usher at the London production of "The Lion King" as she made her way through drama school, and here she is being directed by Ridley Scott.

"When Ridley Scott was directing me, I did have a bit of a moment," says Dormer. "A cinematographer friend of mine had bought me an original 1982 vintage Japanese 'Blade Runner' movie poster for my birthday last February … and then six months later, I got the call. So I actually took my poster on set and asked Ridley to sign it. And he was like, 'This is amazing you have this, how do you have this?' "

Now she has an autographed original 1982 vintage Japanese "Blade Runner" movie poster on her study wall.

"Sometimes the universe conspires for you," she says, "and those are beautiful moments that you cherish."